Balance Augmentation in Locomotion, through Anticipative, Natural and Cooperative control of Exoskeletons.
People
Prof. Dr. Ir. H. Van Der Kooij
Dr. E.H.F. Van Asseldonk
Ir. M. Vlutters
Background & Goal
The goal of BALANCE is to realize a robotic exoskeleton that improves the balance performance of humans while standing and walking. Such a robot could help in situations where keeping balance is difficult, such as in specific work conditions, or help people that have difficulty maintaining their balance, such as people with neurological injury, for example during rehabilitation sessions.
The exoskeleton will be human-cooperative. This means that it will support the user, but not fully take over the control when this is not needed. Depending on the application it can either assist only in difficult conditions or in case of erroneous behavior of the user, or it can fully take over postural balance control. Supported tasks are functional standing and walking, in a clinical, real all-day life or work environment.
Approach
Our main task in the project is to identify human balance control and understand how this seemingly simple task works. There are two main approaches to this: balance experiments in healthy human subjects and modeling of balance control. The former focuses on measuring the kinetics and kinematics of subjects during balance-challenging experiments, and extracting balance strategies from them. The latter can be used to validate strategies and test balance controllers in a simulation environment. An example experiment is walking with a reduced base of support by using custom-built orthoses. Used models vary from simple inverted pendulum models to more complex multibody systems.
Project History & Achievements
21-01-2013 Project Kickoff
01-04-2013 Bachelor Assignment on the Virtual Pivot Point by G. van Lenthe
25-09-2013 Master Assignment on orbital energy based lateral stability (tentative) by F. J. Wouda
12-10-2013 Completion custom made pin-ankle-foot-orthosis for stepping experiments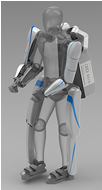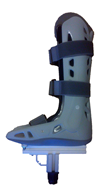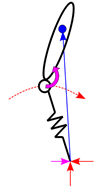 Publications
t.b.a.
Conference contributions
2013-04-09 : COST conference : Poster Session : University of Twente, Enschede, The Netherlands
2013-06-10 : Dynamic Walking : Poster Session : Carnegy Mellon University, Pittsburgh, PA, USA
Interested?
Are you a bachelor or master student looking for an assignment? Feel free to contact Mark Vlutters and ask for available assignments.