Introduction to RRR and GoGreen projects
There are various approaches to improve the residential environment using sensor information. GoGreen project aims to develop methodologies and techniques to enable energy neutral "green" houses by combining energy efficiency and user comfort. The project Realization of Reliable and Secure Residential Sensor Platforms (RRR) focuses on the introduction of a services platform for the residential environment, enabling the re-use of sensors for different services. In particular, the project focused on the scalability aspects related to indoor climate and security services. Both RRR and GoGreen are IOP Gencom projects.
Realization of Reliable and Secure Residential Sensor Platforms (RRR) 
The recent emergence of sensor networks has opened up tremendous possibilities for improving the quality of life in residential environments. In homes, for instance, they help monitor energy consumption and air quality. To avoid having to create a separate sensor network with new sensor services for every new application, the IOP Generic Communication project

RRR is developing a generic services platform. More information here.
GoGreen
There are already various different systems on the market for making homes more energy-efficient and for monitoring and controlling how much energy household appliances consume. What is lacking is an intelligent energy-management system that responds to the behavior and the preferences of the inhabitants and gives them feedback about their energy use. The IOP Generic Communication project GoGreen will fill that gap. More information here.
About Maurits de Graaf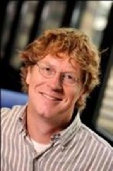 Dr. Ir. Maurits de Graaf was with KPN Research from 1994 to 1999, working on traffic-management methods for ATM networks. Since 1999, he has been with the Innovation, Research & Technology department of Thales Netherlands, where he has been involved in many collaborative national and international research projects with other companies and scientific institutions. Since 2006 he is a part-time associate professor at the University of Twente, the Stochastic Operations Research group, doing research on the development and analysis of algorithms to increase the lifetime of wireless ad-hoc and sensor networks.