Deblurring and investigating video data collected by a newly developed innovative drone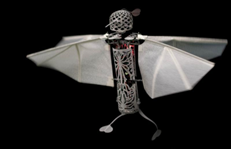 Problem statement
The world population is growing steadily, and now it has reached around 7.9 billion people. To feed such a growing population, a substantial increase of global food production by 70 percent by 2050 is required. As a result, agriculture is facing a challenge, especially in combination with labor shortages and consumers asking for more sustainable food. To take on the food and labor challenges in the agriculture sector, significant interventions in arable farming and greenhouse horticulture are needed. One such innovation is the application of drones in greenhouses. These drones could be used to record video data in a greenhouse or to pollinate plants for example. Nevertheless, the current quadcopter drones do have some challenges, for example, the fast-rotating blades possibly damaging valuable plants. Therefore, a new kind of drone is developed which uses wings to fly around. The advantage of this drone is that the wings do not damage the plants when hitting it. However, a disadvantage of the drone is that the wings are causing a motion blur in videos recorded. This motion blur needs to be removed to increase the usability of the recorded video data.
Task
The task of this project is to investigate how motion blur could be removed from a video. For this project, we already have some data including the corresponding gyroscope data. There are several ways to unblur a video, such as the use of deconvolution and the determination of the point spread function or by using iterative motion deblurring methods. As a first task, a literature review should be executed to identify the most appropriate method. Subsequently, this method should be implemented and used to deblur the videos which are already recorded. Your result may lead to the use of the flapper drone in the horticulture sector, damaging less valuable plants while acquiring more yield optimization!
Work
30% Theory, 50% implementation, 20% writing report
Contact:
Le Viet Duc, v.d.le@utwente.nl
About Track32:
At Track32 we produce innovative computer vision and AI software. Making the technology easily accessible, so that it becomes part of your organization's natural intelligence.
Track32 provides state-of-the-art computer vision and AI algorithms, and we integrate them into existing or new hardware and software systems. We are experts in processing all types of visual and non-visual data, using deep learning and other methods. Track32 excels at analyzing the user's requirements and matching them with technically feasible and cost-effective solutions. Using our computer vision and AI solutions leads to huge cost savings and massively increased operational efficiency for our customers.
Computer vision and AI are generic technologies that can be used in any application domain. We serve a wide spectrum of customers in the agricultural supply chain, but also players in other markets such as post harvest, material handling, spatial planning, healthcare and the life sciences. We serve commercial companies as well as research institutes and government.