Using AI to create synthetical images of seedlings recorded in greenhouses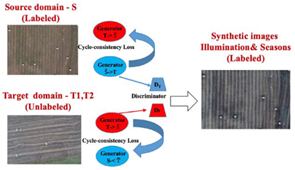 Problem statement
The world population is growing steadily, and now it has reached around 7.9 billion people. To feed such a growing population, a substantial increase of global food production by 70 percent by 2050 is required. As a result, agriculture is facing a challenge, especially in combination with labor shortages and consumers asking for more sustainable food. To take on the food and labor challenges in the agriculture sector, significant interventions in arable farming and greenhouse horticulture are needed. One such innovation is the increased application of fully automated data analysis in greenhouses. One of the applications of this fully automated data analysis is automatically recording and monitoring seedlings in greenhouses to identify the growth, size, and color information over time. For this application, AI algorithms are used which are trained on annotated datasets. But, these annotations require time and money, especially if the model needs to be robust for several growing stages and light circumstances. Therefore, it is interesting to use AI for developing synthetic training data including annotations.
Task
The task of this project is to investigate how AI could be used to develop synthetic training data. An example of an AI algorithm that is able to do that is a generative adversarial network (GAN), of which an example is shown in the image below (acquired from https://www.mdpi.com/2072-4292/13/1/23/htm). The aim of this project is to develop an AI network which output is similar to the example shown below, but then applied for a tray of seedlings.
Work
30% Theory, 10% data collection, 40% implementation, 20% writing report
Contact:
Le Viet Duc, v.d.le@utwente.nl
About Track32:
At Track32 we produce innovative computer vision and AI software. Making the technology easily accessible, so that it becomes part of your organization's natural intelligence.
Track32 provides state-of-the-art computer vision and AI algorithms, and we integrate them into existing or new hardware and software systems. We are experts in processing all types of visual and non-visual data, using deep learning and other methods. Track32 excels at analyzing the user's requirements and matching them with technically feasible and cost-effective solutions. Using our computer vision and AI solutions leads to huge cost savings and massively increased operational efficiency for our customers.
Computer vision and AI are generic technologies that can be used in any application domain. We serve a wide spectrum of customers in the agricultural supply chain, but also players in other markets such as post harvest, material handling, spatial planning, healthcare and the life sciences. We serve commercial companies as well as research institutes and government.