Investigating which QR code sizes and materials are most suitable for drone data collection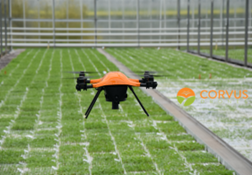 Problem statement
The current shortage of labour is causing an increasing interest into innovations in for example greenhouses. Growers grow vegetables and flowers in different growth stages, from seedling to sellable plant or vegetable. Currently, we are working together with our drone partner to develop an automated pipeline for assessing seedling sizes in a tray. This information is important for a grower to have increased insight into his sellable product and the differences of growth stages within the greenhouse. Currently, we are distinguishing between trays and batches by using QR codes, which are automatically detected and decoded by our software. However, some of these QR codes are not decodable due to several reasons, such as shadow, marker material and light conditions. Hence, we would like to identify which QR code size and material is most suitable for drone data collection under different environmental circumstances.
Task
The task for this project is to investigate which QR code material and under which camera settings the QR codes are best decodable by our marker detection. Therefore, you could start with a literature review of currently available research into this topic. Subsequently, you can test your insights and perform your experiments by using a drone and collecting data on several fly heights and by using several camera settings. In the end, you will give a clear overview of your results, which will be used for our QR code requirements in the future!
Work
20% Theory, 20% data collection and annotation, 40% implementation, 20% writing report
Contact:
Le Viet Duc, v.d.le@utwente.nl
About Track32:
At Track32 we produce innovative computer vision and AI software. Making the technology easily accessible, so that it becomes part of your organization's natural intelligence.
Track32 provides state-of-the-art computer vision and AI algorithms, and we integrate them into existing or new hardware and software systems. We are experts in processing all types of visual and non-visual data, using deep learning and other methods. Track32 excels at analyzing the user's requirements and matching them with technically feasible and cost-effective solutions. Using our computer vision and AI solutions leads to huge cost savings and massively increased operational efficiency for our customers.
Computer vision and AI are generic technologies that can be used in any application domain. We serve a wide spectrum of customers in the agricultural supply chain, but also players in other markets such as post harvest, material handling, spatial planning, healthcare and the life sciences. We serve commercial companies as well as research institutes and government.