robert vogt-ardatjew
scientific staff
Vogt-Ardatjew, dr.ir. R.A. (Robert)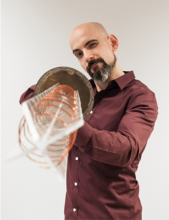 r.a.vogtardatjew(remove)@utwente.nl
Electrical Engineering
Building Carré, room C2.435
P.O. Box 217
The Netherlands
Phone: +31 53 489 3839
Phone secretary: +31 53 489 3856
biography
Robert Vogt-Ardatjew, from Karpacz, Poland, was born in February 1987. In November 2011, he received a MSc degree in Electronics and Telecommunications from Wroclaw University of Science and Technology in Poland, with a distinction for his thesis 'The use of Modulated Scatterer Technique for field mapping in the vicinity of an electromagnetic absorber'.
During his internship in Thales Nederland in Hengelo between May and October 2011, he worked on electromagnetic probe characterization and evaluation of reverberation chambers.
Between 2012 and 2017, he pursued his PhD degree in the Telecommunication Engineering Group at the University of Twente, focused mostly on the HIRF-SE project, as well as participating in PEM and EMRP, resulting in a thesis titled 'Electromagnetic fields in reverberant environments'. After graduation, he continued to work at the Univeristy of Twente in the Power Electronics Group as a researcher, also providing daily supervision for PhD candidates in the field of electromagnetic compatibility.
His paper 'Experimental field mapping in direct vicinity of a pyramidal absorber using Modulated Scatterer Technique' was nominated for the Best Paper Award at the EMC Europe 2012 conference.
Publications
Publications (co)-authored by Robert Vogt-Ardatjew can be found here or seen below: