leonardo correa malburg
ph.d. student     
Correa Malburg, L. (Leonardo), MS.c.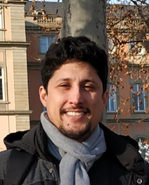 Electrical Engineering
Building Carré, room 2.538
P.O. Box 217
7500 AE Enschede
The Netherlands
e.mail: l.correamalburg@utwente.nl
Phone: +31 53 4892590
Phone secretary: +31 53 4893856
biography
Leonardo Corrêa Malburg was born on August 7th, 1987. He received his bachelor's degree in Industrial Design in 2011 at University of the Valley of Itajaí (UNIVALI), Balneário Camboriú - Brazil, and his master's degree in Electrical Engineering (Energy Field) in 2019, at Polytechnic Engineering Institute (ISEL), Lisbon – Portugal.
Since July 2020 he has been working as a Ph.D. candidate at the Power Electronics and Electromagnetic Compatibility (PE) of the University of Twente, where he will be working on the EASIER project with a focus on achieving EMC in Electric Aircrafts.
publications
Publications (co) authored by Leonardo Malburg can be found here.
introducing