Seyedreza azizighalehsari
ph.d. student     
Azizighalehsari, S. (Seyedreza), MS.c.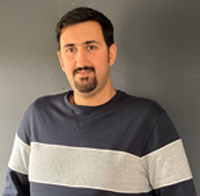 Electrical Engineering
Building Carré, room 2.530
P.O. Box 217
7500 AE Enschede
The Netherlands
e.mail: s.azizighalehsari@utwente.nl
Phone: 
Phone secretary: +31 53 4893856
biography
Seyedreza Azizighalehsari was born in Behshahr, Iran, September 1988. He received his bachelor degree Electrical Engineering in 2011 at Mazandaran University, Babolsar, Iran and his master degree Electrical Engineering in 2015 at the Shahrood University of Technology, Shahrood, Iran.
After graduation, He worked in high voltage Laboratory at Babol Noshirvani University of Technology to test the HV insulators and HV components including porcelain, glass and SIR composite Insulators from September 2016 until June 2018.
From May 2019 he worked as a teacher assistant and lab coordinator in ICD group at University of Twente and then he has worked as a battery testing lab technician in PE group until his appointment as a PhD candidate at the University of Twente in September 2020.
publications 
Publications (co) authored by Seyedreza Azizighalehsari can be found here.
introducing