Introduction
Obstacles that hamper the further development of liquid chromatography on a chip are investigated and dealt with.
In a first approach, the flow limitation, originating from pressure drop, is circumvented by propelling the mobile phase through the shear-driven flow module, where a moving wall is dragging the liquid along the channel at a constant velocity [1]. In this way, very shallow channels (till below 100 nm) with concomitant ultra-fast separation characteristics can be produced.
Mass loadability in these open tubular channels is increased with several orders of magnitudes through the use of porous silicon [2] (Fig. 1).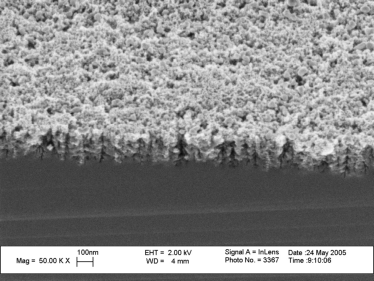 Figure 1: High-resolution SEM picture of Porous silicon produced by anodic HF-etching. A homogenous surface was produced over the entire channel. The pore diameters have dimensions of about 5 nm and the thickness of the layer is 150 nm. Both parameters can be altered easily.
In another approach, highly structured monolithic columns are produced by 2D-etching, thus avoiding the non-uniformity of traditional packed columns in this pressure-driven system (Fig. 2). Structures are manufactured based on optimal designs guided by computational fluid dynamics.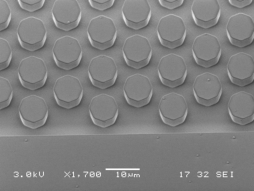 Figure 2: A channel in which an array of silicon pillars coated with a thin stress-free silicon nitride layer is positioned in such a way that band broadening of moving peak is minimized. Plate heights as low as 0.4 µm can be obtained with this system.
For the sake of detectability, these approaches have high aspect ratios in common and this poses specific problems to gather and process the information of the performed separations.
Large efforts are put into the full integration of reliable injection and detection systems to achieve in the end a completely automated separation system with substantially improved characteristics compared to contemporary LC-systems.

Figure 3: Optical microscope picture (left) and Wyko scan (right) of an injection slit observed from opposite sides. On top of thel spacers with a thickness of 400 nm a moving glass plate seals the channel and drags the liquid at a constant velocity. Perfectly defined plugs can be injected by subsequently: a) loading the sample in the injection slit, b) injecting the sample into the channel (by displacement of the moving wall), c) replacing the sample in the injection slit by buffer, d) restarting the motion of the movable wall (the peak moves along the channel). Gradient elution is very suitable for this system because of the very short mixing times.
Literature
[1] G. Desmet and G. Baron, The Possibility of Generating High-Speed Shear-Driven Flows and Their Potential Application in Liquid Chromatography, Anal. Chem. 72, 2160-2165 (2000)
[2] D. Clicq, R.W. Tjerkstra, J.G.E. Gardeniers, A. van den Berg, G. V. Baron and G. Desmet, Porous silicon as a stationary phase for shear-driven chromatography, J. Chrom. A 1032, 185-191 (2004).
Partners
This project is executed in co-operation with the Vrije Universiteit Brussels (VUB) and the University of Amsterdam (UvA)
Interested?
If you are interested and for instance would like to do your graduation work or practical term, please contact us via the email address below.
Contact Information
Wim De Malsche and / or Han Gardeniers
MESA+ Institute for Nanotechnology
University of Twente
P.O. Box 217
7500 AE Enschede
The Netherlands
Phone: +31 (0)53 489 2594 (Wim) / +31 (0)53 489 4356 (Han)
Fax: +31 (0)53 489 3595
Email: W.Malsche@ewi.utwente.nl / J.G.E.Gardeniers@utwente.nl