Tuesday 13 December 2022 18:00 - 20:30
What: Grand Finale UT Eco Challenge
When: Tuesday December 13th, 18:00 - 20:30
Where: Technohal, Atrium
Sustainable living for students
How can we invite students to think about sustainable living, while they often only live at their student house for a couple of years? In most student houses, sustainability is not a top priority since sustainable investments take time and financial resources. That is why in November and December of 2022, the second edition of the UT Eco Challenge will take place for student houses and associations, respectively. The challenge provides an opportunity for students to make small investments that are beneficial on a short-term and long-term basis. Students are challenged to come up with creative ideas on how they could make their student house or assocation more sustainable. The top 6 winners of the challenge will go home with prizes ranging from €200 to €1500, which they will use to make sustainable investments in their houses or associations. 
The finale of the Eco Challenge is open to everyone who is curious, even if you don't take part in the challenge itself. You can join to support your favourite team, or simply to get inspired by the student's ideas. In that case, please sign up through the link below.
The event is the fourth event in the 4TU.Circular Economy roadshow. Prior to the finale, you can visit housing association De Veste's Christmas market.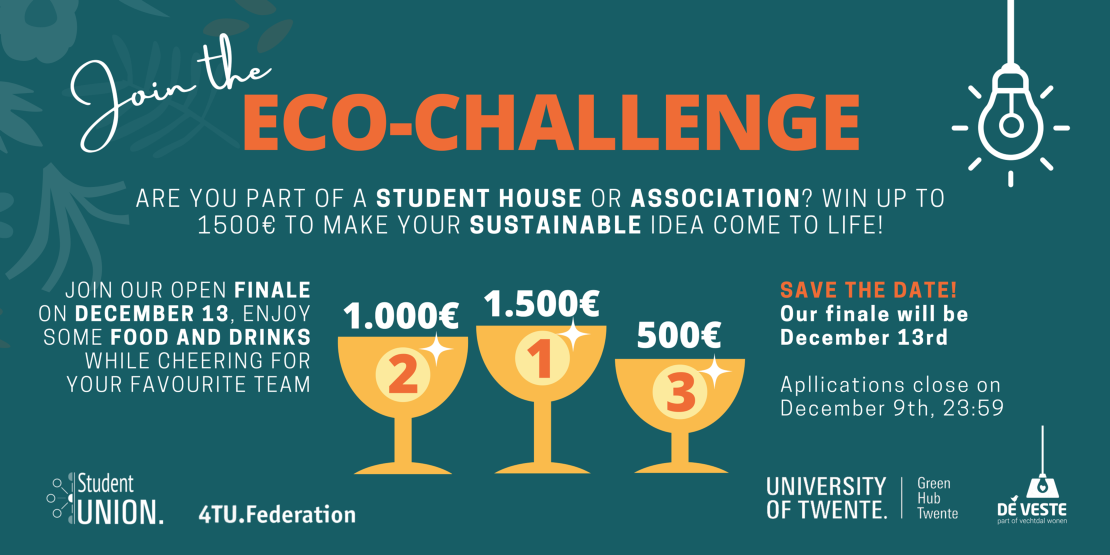 Programme
18:00   Welcome and introduction of the pitchers
18:30   Let's pitch! Round 1 With a reaction from the jury
19:00   Break
19:10   ReThink Waste Challenge Introduction by Marta Eggers (WUR)
19.15   Let's pitch! Round 2 With a reaction from the jury
19.45   Circular / Biobased Economy by dr. Devrim Yazan
20.00   Prize ceremony
20.30   Let's network! With some drinks and snacks