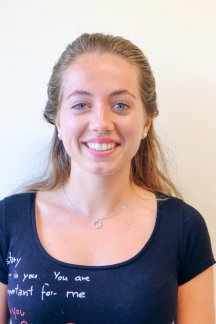 Since last September, I have been enrolled in the Environmental & Energy Management master's programme. I could choose from multiple master's programmes in this field, but a classroom with so much cultural diversity was what drew me in. And I mean a lot of diversity. We have 35 students; 5 of whom are Dutch, 2 Spanish, and we have one Greek and a Belgian. Those are the only Europeans. The rest are from outside of Europe; Pakistan, Vietnam, Mexico, Brazil, Ghana and Indonesia are just a few examples.
While I couldn't wait to get started, I wondered what it would be like to spend a year with people from such diverse backgrounds. After all, I had decided to move to Leeuwarden rather than return to Groningen where most of my friends lived. I thought, if I am going to return to studying, it is important to integrate into the group – both inside and outside of the classroom. Well, that is exactly what happened!
 The nice thing about such an amount of diversity is the group dynamic. Everyone experiences a lesson differently. We Dutch people are used to actively participating and asking questions. That's far from the standard in some other cultures. There, you sit down for class and listen, which was sometimes difficult for me to comprehend. I was recently surprised by my Chinese classmate. He never said anything and was usually busy with his phone. I thought he was uninterested and badly prepared. Turned out, he was the opposite of uninterested. He had amazing ideas, but he could express himself better on paper and he was not used to speaking in class. He absorbed all knowledge like a sponge, so notes were not necessary during class. Together, we handed in a good assignment.
 Other than that, I learned from different views. Non-European countries have very different views on how the world works, and on the way we handle things in the Netherlands. That has given me new insights. In my opinion, you will reach stronger and more creative solutions if you combine interdisciplinary backgrounds.
 A number of classmates became friends, too. We often eat together. My Egyptian classmate is an especially great cook. Comments on Dutch food are not uncommon; they still think we only eat bread and fried snacks. I think I'll soon make an attempt to change their minds. No matter how much I enjoy encountering other cultures and learning from them, it is not a bad thing to show some Dutch pride now and again.