As an upcoming student, you may be wondering what studying looks like during COVID-19. On this page, you can read how the University of Twente copes with this situation so you can study safely.
Optimising on-campus education
We are anxiously awaiting the moment we will be able to provide more on-campus education again, and we are in the process of preparing for the 2021-2022 academic year. The outlook for September is good, and we feel strongly about optimising the possibilities for a safe return to on-campus education.
The University of Twente (UT) believes meeting in person and working together on projects and assignments is very valuable. As is the social aspect of studying; after all, we are a campus university with a tight-knit community. Students are active in our many associations and student organisations, where they have the opportunity to acquire a variety of skills and make friends for life.
We will provide as much contact time as is possible within COVID-19 government guidelines. Though we are positive about the possibilities, it all depends on how the COVID-19 pandemic will evolve. In any case, we plan to offer first-year students extra options for in-person activities designed to help you find your way as a UT student.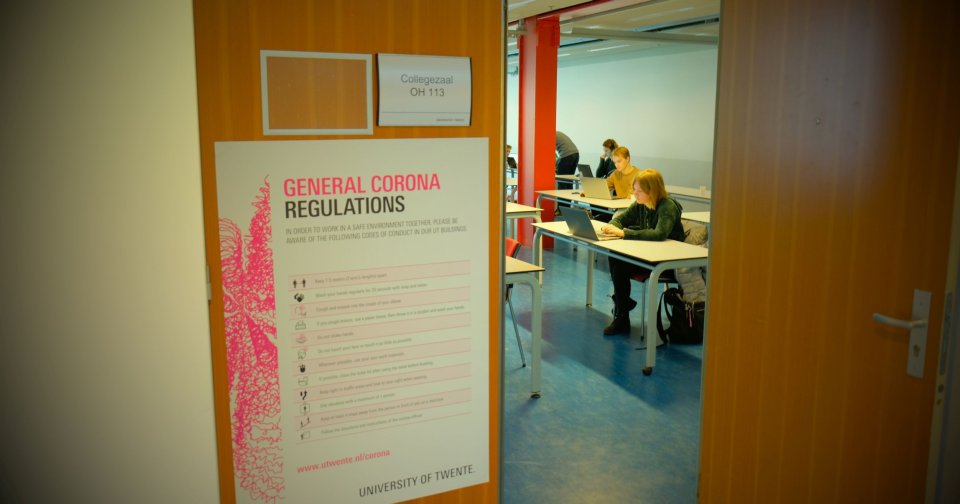 Online and offline; combining the best of both worlds
Since the start of the COVID-19 pandemic, we have made major investments in our online curriculum's quality. It would be a waste not to make use of all the hard work already done because all of our online activities have added something to our education: from interesting new teaching methods to making it possible for students to choose the best time of day for them to study. We look forward to combining the best of both worlds in the period ahead.
What is being done to ensure everything is set by September? 
We have joined forces with a team of experts to create a campus that will be ready for more liveliness and activity by September. All around the country, and here at UT, too, experiments are being conducted to help find ways of going back to as much on-campus education as possible. Stringent safety requirements will, of course, apply.
Through our current on-campus activities, we have demonstrated that we can comply with all safety requirements. Practicals and exams are still taking place on campus. The video below shows how we are currently ensuring a safe and healthy study and work environment.
If we have more detailed information on the 2021-2022 academic year, this page will be updated. For more information about the current situation, visit our Corona service portal.