As an upcoming student, you may be wondering what studying looks like during COVID-19. On this page, you can read how the University of Twente copes with this situation so you can study safely.
Optimising on-campus education
The University of Twente (UT) believes meeting in person and working together on projects and assignments is very valuable. As is the social aspect of studying; after all, we are a campus university with a tight-knit community. Students are active in our many associations and student organisations, where they have the opportunity to acquire a variety of skills and make friends for life. Current regulations will allow a safe return to a great share of on-campus education.
We will provide as much contact time as is possible within COVID-19 government guidelines. The Dutch national government has drafted a framework that applies to universities. Within this framework: 
Basic hygiene measures still apply, such as washing your hands regularly, getting tested in case of symptoms, coughing and sneezing in your elbow and quarantining in case of a COVID-19 infection.
Wearing a face mask is mandatory in UT buildings when you are moving around.
The 1,5-meter-distance rule no longer applies in lecture rooms/halls.
There will be a group size restriction of 75 persons for (lecture) rooms. Activities for larger groups will take place online or will need to be organised in an alternative way.
Optimisation of building hygiene has been established, for instance, optimal ventilation and air circulation. 
Voluntary use of self-tests by staff members and students.
Study-related activities may take place, such as introduction programmes, graduation and thesis defence ceremonies.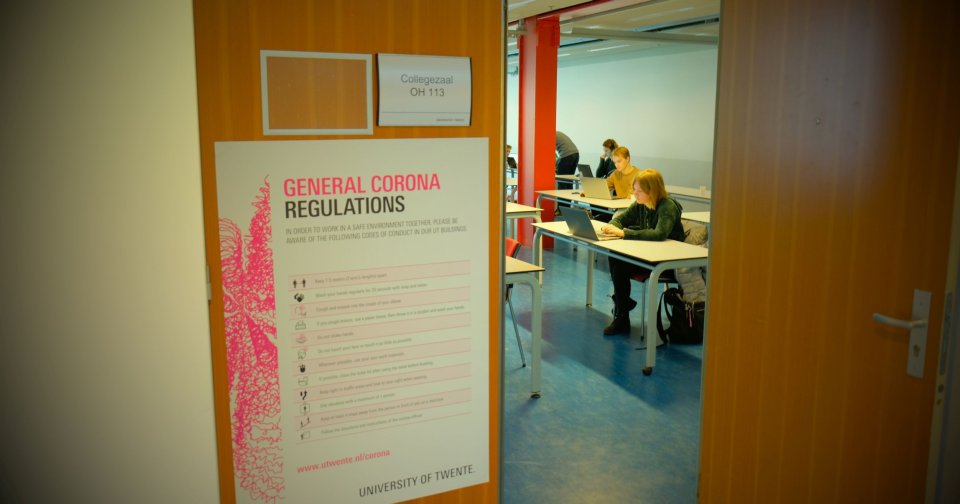 Online and offline; combining the best of both worlds
Since the start of the COVID-19 pandemic, we have made major investments in our online curriculum's quality. It would be a waste not to make use of all the hard work already done because all of our online activities have added something to our education: from interesting new teaching methods to making it possible for students to choose the best time of day for them to study. We look forward to combining the best of both worlds in the period ahead. For the upcoming academic year, we expect that still a small percentage of our education will be offered online. There may be differences between studies, but the general rule of thumb is 20 to 25 per cent online.
What is being done to ensure everything is set by September? 
We have joined forces with a team of experts to create a campus that will be ready for more liveliness and activity by September. All around the country, and here at UT, too, experiments are being conducted to help find ways of going back to as much on-campus education as possible. Stringent safety requirements will, of course, apply.
Through our current on-campus activities, we have demonstrated that we can comply with all safety requirements. The video below shows how we are currently ensuring a safe and healthy study and work environment.
For more information about the current situation, visit our Corona service portal.