First BKO certificate in accelerated trajectory presented to Dr Timo Meinders
UHD Dr Timo Meinders of the Faculty of Engineering Technology is the first UT lecturer to have received his BKO certificate. The certificate was awarded to him last Thursday by Susanne Wichman, director of S&O and deputy Head of the Educational Services Department.
BKO stands for Basis Kwalificatie Onderwijs (Basic Teaching Qualification). With a BKO certificate lecturers show that they provide high-quality education. The Executive Board has made an agreement with the Ministry of Education, Culture and Science to the effect that 45% of UT lecturers will have a BKO qualification by 2015.
For lecturers who are more experienced – i.e. between five and twenty years' experience in higher education - the Educational Services Department has established an accelerated trajectory.
Timo Meinders was not immediately very keen when he received the letter from the Executive Board about obtaining the BKO. But now, he is glad that he did it. "When do you allow yourself the time to give much thought to the way you actually teach? I have been teaching for more than twelve years now. Thanks to the BKO trajectory I have become very conscious of the development I have gone through in these twelve years. My conclusion is that I work in an environment where this development has been stimulated in a very natural way." Meinders also became aware of areas that can be further developed: making his lectures to large groups more interactive. "In a class with thirty students this is not very difficult. But I also give lectures to groups of 250 people, and that's quite a different thing for me. I have colleagues who have no difficulty doing this, and I want to be able to do the same."
The time investment for obtaining the BKO is not too big a problem, Meinders believes. "According to the Educational Services Department you can complete the trajectory - under certain conditions - within 20 to 40 hours. I spent a little more time than needed, but that was because I enjoyed it so much. The Educational Services Department, in the person of Lisa Gommer, coached me excellently during the process." In all respects, it has been a positive experience for Meinders. ==================================================================================
'UTQ gave me a new perspective on teaching'
Mark Bentum (associate professor Telecommunication & Engineering):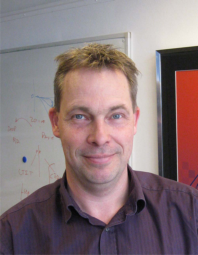 "UTQ* has given me more insight into the way in which I teach. This critical self-analysis is what I consider to be the most useful aspect of obtaining my BKO certificate.
When I heard about UTQ I was not the first person to sign up. With two demanding jobs this trajectory was the last thing on my mind. In retrospect I am very happy I did it, because participating in the UTQ trajectory doesn't have to cost you a lot of time, certainly if you are an experienced teacher. I had completed my portfolio within a month. Besides, it isn't difficult. Roughly, it consists of three parts. First, collecting (existing) evidence, such as course material, handouts and subject evaluations, then collecting (critical) feedback and lastly self-analysis.
Participating in a UTQ trajectory forces you to clearly put on paper everything you do in the area of teaching and to have a critical look at yourself. I enjoyed receiving feedback from colleagues and students and the self-analysis was certainly a most interesting exercise.
I formulated the UTQ myself, but there are various options for doing this in a group and/or within the context of educational reform. I consider it a good thing if everyone were to obtain his or her BKO. We should always endeavour to continue to improve our teaching. Taking a close look at your own activities is important in this context. It gives you fresh ideas: a new perspective on teaching."
* UTQ = University Teacher Qualification. Same as (Dutch): BKO = Basis Kwalificatie Onderwijs.