SUTQ in relation to other initiatives on Teaching Excellence
To accommodate a culture of teaching excellence, the university has endorsed a teaching framework that articulates four levels of university teaching. The SUTQ is an example of the professional activities that can be undertaken by UT academics. The SUTQ is linked to level 2, the skilled and collegial teacher. This means the teacher already masters the first level (the effective teacher).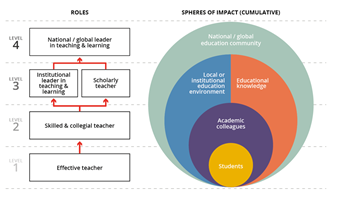 The UT wants to stimulate and facilitate all academic staff members to develop their teaching skills on the first two levels of the framework.
Rewarding teaching achievements: Many UT academics already put a lot of effort in developing and innovating education and provide mentorship and inspiration to their teaching peers. Many others have plans to do so, but experience a lack of time and/ or support. The SUTQ can be a way to support and facilitate initiatives regarding the development and innovation of education by explicitly creating time, inspiration, support and a learning-community of peers.
Evaluating teaching achievements: Preparing for job- and career events like appointment, annual interview or a promotion case, an academic can show his/her professional activities on teaching and learning as examples to
-          characterize the nature and scale of their teaching responsibilities.
-          provide contextual information about their training and professional development, as well as your educational interests
-          provide contextual information about their contributions to education and the educational environment.
The SUTQ can be shown by the academic as a form of evidence that characterises his/her contribution to supporting a culture of teaching excellence within and beyond the own educational activities (At level 2: Skilled and collegial teacher). More information about rewarding and academic career pathways is available on the HR website.