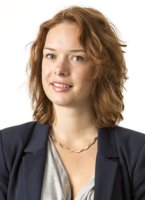 Iris van Sintemaartensdijk, MSc
 Expertise
Virtual Reality
Burglar behaviour
Guardianship
In 2013 I obtained by bachelor's in psychology at the Vrije Universiteit in Amsterdam and in 2015 I completed the Research Master Social Psychology (cum laude) at the same university. During this time, I worked as a research assistant for dr. Francesca Righetti on the Spring Relationship Study and completed an internship on the Virtual Burglary Project at the NSCR under supervision of Prof. Dr. Mr. Jean-Louis van Gelder and Dr. Jan-Willem van Prooijen. After my graduation I continued to work at the NSCR as a research assistant for the Virtual Burglary Project and worked as a teacher at the VU. In May 2016 I started my PhD project at the VU and in 2018 I continued this research at both the Vrije Universiteit Amsterdam and the University of Twente.
Researchprojects
Virtual Burglary Project
In my PhD project I focus on establishing whether virtual reality is a valid method to study burglar behaviour and how guardianship - the symbolic or physical presence symbolic of an individual or group of individuals that could potentially deter a criminal event – can influence burglar behaviour. This project is supervised by Prof. Dr. Jean-Louis van Gelder, Prof. Dr. Paul van Lange and Dr. Jan-Willem van Prooijen and funded by the Dutch Ministery of Justice and Politie en Wetenschap.
Publications
van Gelder, J. L., Nee, C., Otte, M., Demetriou, A., van Sintemaartensdijk, I., & van Prooijen, J. W.
(2017). Virtual burglary: Exploring the potential of virtual reality to study burglary in action. Journal of Research in Crime and Delinquency, 54(1), 29-62.