Contact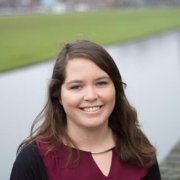 PhD Student
Wendy Schreurs
Presence: Mo. / Tu. / Thu. / Fr.
Building: Cubicus, room C236 
Telephone: +31 (0)53 – 489 6651
Secretary: +31 (0)53 – 489 5279 (room C243a)
E-mail: w.schreurs@utwente.nl
Personal website: nl.linkedin.com/in/wendyschreurs


Expertise
In 2014 I graduated cum laude for my master's degree in Psychology (specialization Conflict, Risk & Safety), and in 2015 I received a master's degree in Public Administration (specialization Public Safety). The subject of my master thesis for psychology was 'Determining crime seriousness in the context of victim-offender mediation'. This research was conducted in collaboration with the organization Victim in Focus (Slachtoffer in Beeld). For Public Administration I graduated at the Research and Advisory Group of the Dutch Police-unit 'East-Netherlands' on 'Multidisciplinary cooperation within teams'.
Research projects
During my PhD-project I will examine the role of citizens in community policing. The project aim is to identify the mechanisms underlying citizen participation in policing with a focus on issues such as crime and social disorder. In a later phase, I will develop and test interventions as how to improve citizen participation.
The PhD-project is supervised by Prof. dr. José Kerstholt, dr. Peter de Vries and Prof. dr. Ellen Giebels. Funding: TNO.
Teaching Code
Supervision of Bachelor and Master theses 201000150/201000153
Supervision of Research Assignments (bachelor) 201400295
Guest lecturer Bachelor Module: Psychology of Safety 201400122
Functions
·         ASPO Dissertation Award Committee
·         Editor In-Mind Magazine
Publications
Schreurs W., Kerstholt, J.H., de Vries, P.W. & Giebels, E. (Under review). Witnessing a crime: citizen intervention and the role of morality.
Schreurs W., Kerstholt, J.H., & Giebels, E. (Invited revision). Citizen participation in the police domain: the role of attitude and morality. 
Zebel, S., Schreurs, W., & Ufkes, E. G. (2017). Crime Seriousness and Participation in Restorative Justice: The Role of Time Elapsed Since the Offense. Law and Human Behavior, 41, 385-397. http://doi.org/10.1037/lhb0000242
Schreurs, W., Zebel, S. & Ufkes, E.G. (2014). Prevalentie van ernstige misdrijven bij slachtoffer-daderbemiddeling. Tijdschrift voor herstelrecht, 14, 10 - 23.