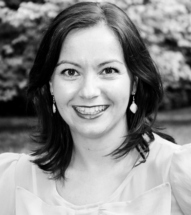 Hanadie Leusink Msc. - Data team coach and project coordinator
My background is in Public Administration and Public Policy studies. In 2008, I completed my Master Public Safety Governance at the University of Twente. During my study, I encountered different aspects of policy-making and management in disciplines such as Political Science, Social Science, Law and Economics. I have experienced how it is to work in the educational sector during my work as a policy advisor on quality care at a secondary school. There, I realized the importance of data-based decision making is in education.
Currently, I work as a data team coach and coordinator for the Data team project. As a facilitator, I guide the data teams through the eight step data team® procedure: from the first steps (formulating a problem definition and hypothesis) to the final steps (analyzing data and implementing new measures to improve education).
For me, the data team procedure is a practical approach to data-based decision making. Helping and supporting people by offering them my knowledge and expertise in order to improve education; that is what is truly important to me!