Patient Portal with home access to Electronic Medicine Record (EMR) for patients with Rheumatoid Arthritis
In this project we examined if a patient portal with information, possibilities for online monitoring, and home access to EMR could improve patient empowerment. In order to construct a portal that would suit the wishes and needs of the end users, various needs assessments among patients and caregivers were conducted. In addition RA-patients 'eHealth literacy-levels' were measured in an observation study. During the developmental phase, we tested various low-fi and high-fi prototypes of the portal among stakeholders. The final portal was tested in a pretest-posttest study among 360 RA-patients. We examined the usage, satisfaction and the impact on: satisfaction with care, trust in rheumatologist, self-efficacy in patient-provider communication, feelings of control, illness coherence, and medication adherence.
PhD Candidate
Roos van der Vaart (Thesis: Rheumatology 2.0: Empowering patients by ehealth, 2013)
Contact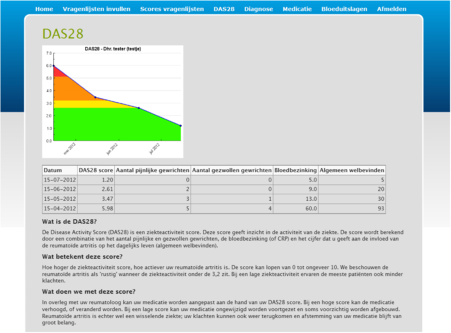 Goal management for successful adaptation to arthritis
Many patients with arthritis face the task of reconciling their threatened personal goals with their capabilities. In this project we study longitudinally in which way four goal management strategies (goal maintenance, goal adjustment, goal disengagement and goal re-engagement) and their flexible application contribute to successful adaptation to arthritis. Successful adaptation is defined as low levels of depression and anxiety combined with satisfying levels of purpose in life, positive affect, and social participation. A longitudinal questionnaire study with three measurements was conducted among 331 patients, the self-management intervention 'Right on Target!' was designed and tested in collaboration with four hospitals. Results are published or currently in preparation for publication.
PhD Candidate
Contact
Cognitive Bias Modification in treatment for alcohol addiction
This project is collaboration between the University of Twente, Saxion University of Applied Sciences, University of Amsterdam and Tactus, institution for addiction treatment. By using CBM-training cognitive motivational biases can be changed. The main focus in this project is a CBM-technique that is called Approach Avoidance Task (AAT) which tries to change the automatic tendencies by training the approach and avoidance tendencies that alcohol addicted people have towards alcohol and non-alcohol. The AAT will be offered in combination with treatment for problem drinkers to see whether it produces more effect.
PhD Candidate
Marleen Bratti-Van der Werf
Contact