METHODOLOGY
THE CEHRES ROADMAP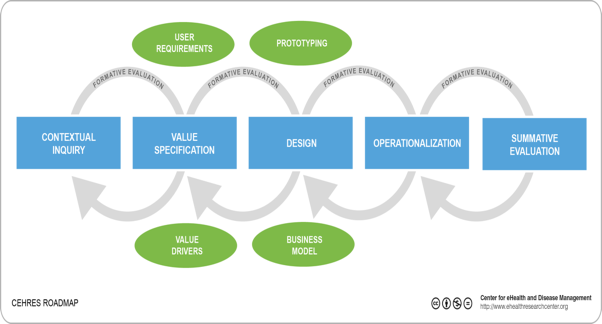 Information
The Centre for eHealth and Wellbeing research (CeHRes) roadmap is a framework for the holistic and human centered development and implementation of eHealth. The roadmap consists of five iterative phases. During all phases, stakeholders will be involved and formative evaluation takes place. The CeHRes roadmap represents a way of thinking about eHealth design involving participatory development, persuasive design techniques, and business modelling.
Link
A more detailed description of the CeHRes roadmap can be found via this link 
Contact
Prof. Dr. J (Lisette) van Gemert-Pijnen

KNOWLEDGE DiSSeMINATION
EHEALTH BOOK – EHEALTH RESEARCH, THEORY AND DEVELOPMENT: A MULTI-DISCIPLINARY APPROACH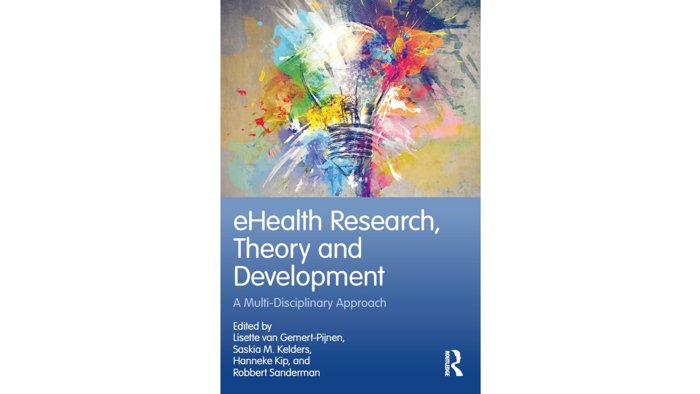 Information
This is the first book to provide a comprehensive overview of the social and technological context from which eHealth applications have arisen, the psychological principles on which they are based, and the key development and evaluation issues relevant to their successful intervention.
Integrating how eHealth applications can be used for both mental and physical health issues, it presents a complete guide to what eHealth means in theory, as well as how it can be used in practice. Inspired by the principles and structure of the CeHRes Roadmap, a multidisciplinary framework that combines and uses aspects from approaches such as human-centred design, persuasive technology and business modelling, the book first examines the theoretical foundations of eHealth and then assesses its practical application and assessment.
Including case studies, a glossary of key terms, and end of chapter summaries, this ground-breaking book provides a holistic overview of one of the most important recent developments in healthcare. It will be essential reading for students, researchers and professionals across the fields of health psychology, public health and design technology.
Contact
Prof. Dr. J (Lisette) van Gemert - Pijnen


Dr. Saskia Kelders


Hanneke Kip

EHEALTH BOOK – IMPROVING EHEALTH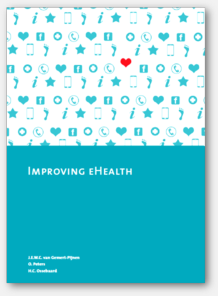 Information
eHealth is the use of information and communication technologies to support health and healthcare. It is also a school of thought about connectivity, social participation and networked innovation. Policy makers, health care professionals, patients, insurers, researchers and citizens alike, believe that eHealth will contribute to the solution of today's health issues and to the innovation of health care systems.
In this book, specialists from the Center for eHealth and Wellbeing Research (University of Twente) and the National Institute for Public Health and the Environment (RIVM) explain what needs to be done to increase the impact and uptake of eHealth interventions. They do so by treating a range of hot subjects such as human centered design, business modelling, persuasive technology and current trends at the intersection of health, social sciences and technology. These topics converge in a holistic approach to the development and design of successful eHealth technologies.
Contact
Prof. Dr. J (Lisette) van Gemert-Pijnen

eHealth MOOC – Combining Psychology, Healthcare and Technology
Information
Our course will focus on improving healthcare in an innovative way by combining psychology and the design of technology. This implies the use of a holistic perspective focused on the user, technology and context. In order to teach the learners about the theory behind, aim and application of eHealth, we will explain what eHealth is and what its main benefits and barriers are, based on holistic evaluation results from practice. Furthermore, the User Centred Design approach will be introduced, partly by using a theoretical framework - the CeHRes Roadmap. Attention will be paid to methods for increasing involvement and adherence; we will explain how to involve users by applying the Persuasive Systems Design Model. The course ends with a look at the future and its emerging technology. What are new, innovative possibilities for developing eHealth and improving healthcare?
Knowledge, insight and application will be achieved by providing small lectures and articles on theory, displaying cases from practice, and using exercises where learners can apply their newly acquired theoretical knowledge. The cases from practice and the exercises will be focused on three domains in which eHealth is important: selfcare and prevention, supportive care and societal health.
During the course, the learner will take on three perspectives of persons involved with eHealth by means of cases and exercises. The first is the perspective of a patient that uses an application focused on depression or diabetes, the second type of user is the healthcare professional, and the third perspective is that of an eHealth developer. The user, context and technology will all play an important role in the cases and exercises.
Contact
Prof. Dr. J (Lisette) van Gemert-Pijnen (Lead educator)


Dr. Saskia Kelders (Educator)


Dr. Floor Sieverink (Educator)


Hanneke Kip (Coordinator)

Center EHEALTH research TOOLKIT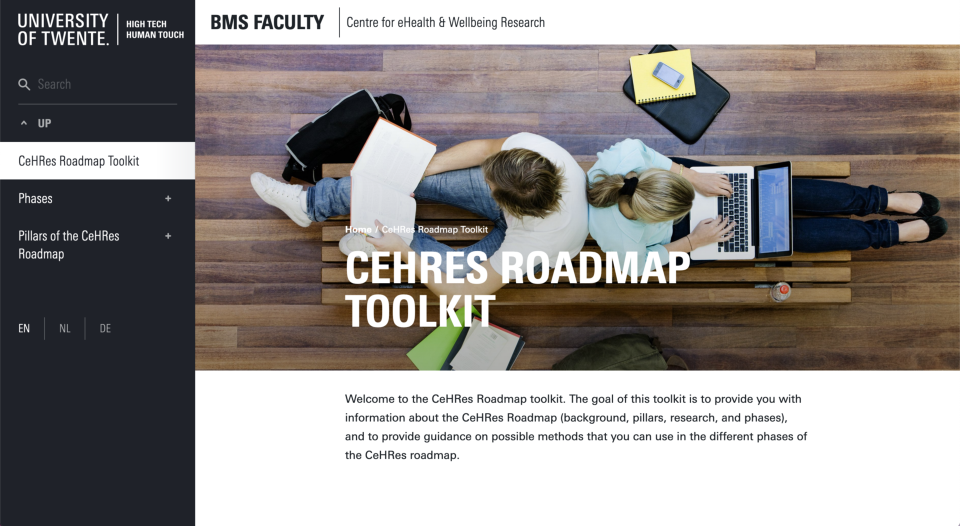 Information
The eHealth Research Toolkit is created by the Centre for eHealth and Wellbeing research. This toolkit entails methodologies and techniques that can be used during development and implementation of eHealth technologies. The focus lies on applying a context driven and human centered approach. The suggested methodologies and techniques relate to existing theory, such as theories on health behavior change, persuasive technology and business modelling. The focus is on the involvement of end-users and key stakeholders during all stages of the development and implementation, and on creating user-engagement to increase the adoption of and adherence to (new) technologies. Business modelling is applied to develop technologies that are affordable and sustainable.
The toolkit provides methods and instruments to decide what works best for whom:
Needs assessments end-users, stakeholders
Stakeholder value maps (business model)
Usability tests and interviews end user involvements
Use and user profiling (logdata & machine learning)
Persuasiveness and user preferences
Fractional factorial designs
Time series; What are the long term effects
Health technology assessments; What are the cost/benefits
Create stake to and involvement of end-users and key stakeholders during all stages of the development and implementation. Besides, the application of business modelling approaches for eHealth development and implementation are encouraged.
The eHealth Toolkit was updated in June (but still under construction), with the launch of the Centres novel health book: eHealth Technology, Theory, Development and Evaluation, a multidisciplinary approach (in press, launch 1th of June).
Contact 
Dr. Floor Sieverink


Hanneke Kip


Julia Keizer


Prof. Dr. J (Lisette) van Gemert-Pijnen

Workplace Implementation of Health Technology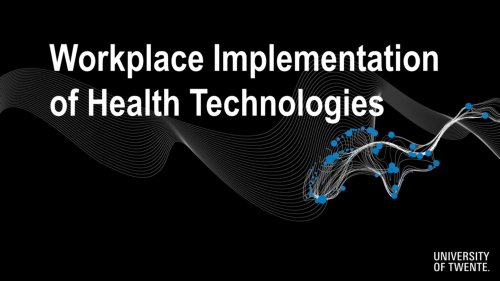 Information
The academische werkplaats implementatie is an initiative of BMS Health, and a cooperation between the University of Twente and UMCG. The aim is to provide and share knowledge and show cases about implementation of Health Technologies. A platform (dashboard) will be developed to support science, business; public healthcare with services for implementation (meetings, workshops, networks, methodology etc.). A needs assessments among partners (science, business, healthcare) has been conducted (2016) and based on that a the dashboard will be co-developed with partners and launched, 1th of June 2018. The academische werkplaats can be considered as an environment for valorization of health technologies and as an instrument to strengthen the implementation of health technologies in Nordic countries (The Netherlands, Scandinavia). 
The results provide concrete directions to strengthen implementation of health technology :
Demonstrating best practices implementation
Cooperation UT-UMCG (NFU-UMCs-citrienfonds sturen op kwaliteit)
Establishment network Business-Science-Health
Valorisation environment implementations 
Link to website (available soon) 
Contact
Prof. dr. Lisette van Gemert-Pijnen

SUPPORTING HEALTH BY TECHNOLOGY CONFERENCE

Information
The Center for eHealth and Wellbeing Research of the University of Twente, in collaboration with the University Medical Center Groningen, annually organizes the supporting health by technology conference.
The conference is interactive; demonstrating and discussing progress in development of eHealth interventions and introducing new methods and models for behaviour change using monitoring technologies. During several sessions (e.g., workshops, demo's and presentations) participants gain new insights into the world of eHealth technologies for health and health care. Participants to the conference represent colleagues from research, health care, policy and innovative businesses.
Twitter
@HealthByTech
Contact
Prof. Dr. J (Lisette) van Gemert-Pijnen

(general chair)
Dr. Floor Sieverink

, Julia Keizer 

(organizing chair) 
Hanneke Kip

, Dr. Saskia Kelders

(program chair) 
Dr. Nadine Köhle
, Dr. Nienke Beerlage-de Jong

(program chair + PR)
Marieke Smellink - Kleinsman
(secretary) 
PERSUASIVE TECHNOLOGY cONFERENCE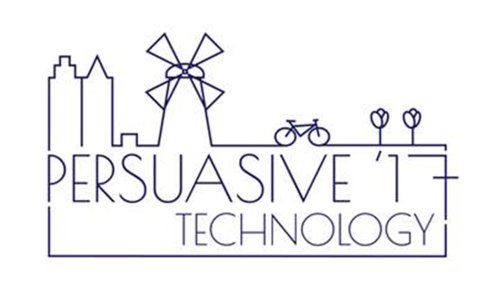 Information
The International conference on Persuasive Technology is an annual event relevant for researcher and practitioner who works on designing, developing, evaluating or implementing persuasive technologies for health. Persuasive technology and behavior change support systems provide means of improving healthcare via co-creation with the end-users (caregivers, caretakers, family carers) and involved stakeholders (decision makers, policymakers and industrial organizations). Persuasiveness in healthcare can be achieved through the design of empathic technologies, adaptive to personalities and tailored to individual needs and skills, through mobile devices and ambient technologies. Persuasive strategies can be applied in empathic and person-adaptive designs for health to create trust, user-engagement and adherence. During several sessions (workshops, demo's, and poster- and oral presentations), researchers and other professionals share state-of-the art knowledge and innovations of this field.
Twitter
@perstech2017
@persuasive2018
Contact
Prof. Dr. J (Lisette) van Gemert-Pijnen

Twitter account @EHEALTHTWENTE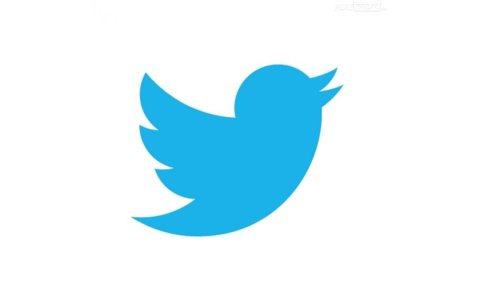 Information
See our twitter account for the current news from our lab: @ehealthtwente 
ehealth technologies
Fit for blended care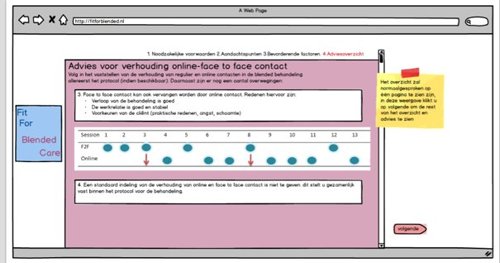 Information
A tool for supporting therapists and clients in discussing and determining the form of a blended treatment.
Downloads (in Dutch)
Contact
Dr. Jobke Wentzel


Prof. Dr. J (Lisette) van Gemert-Pijnen

Infection Manager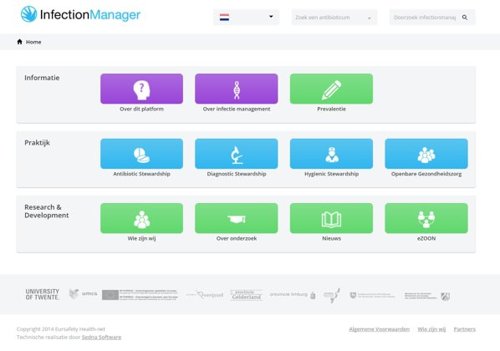 Information
We develop and implement a platform to prevent and control infections (Germany, The Netherlands, www.Eursafety.eu)
Contact
Prof. Dr. J (Lisette) van Gemert – Pijnen

Prevalention App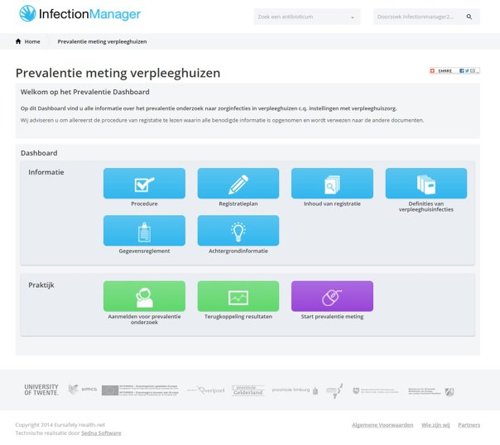 Information
A system to support registration of infections and antibiotics in nursing homes.
Contact
Dr. Nienke Beerlage–de Jong


Prof. Dr. J (Lisette) van Gemert-Pijnen