eHealth book – Improving eHealth
eHealth is the use of information and communication technologies to support health and healthcare. It is also a school of thought about connectivity, social participation and networked innovation. Policy makers, health care professionals, patients, insurers, researchers and citizens alike, believe that eHealth will contribute to the solution of today's health issues and to the innovation of health care systems.
In this book, specialists from the Center for eHealth and Wellbeing Research (University of Twente) and the National Institute for Public Health and the Environment (RIVM) explain what needs to be done to increase the impact and uptake of eHealth interventions. They do so by treating a range of hot subjects such as human centered design, business modelling, persuasive technology and current trends at the intersection of health, social sciences and technology. These topics converge in a holistic approach to the development and design of successful eHealth technologies.
Contact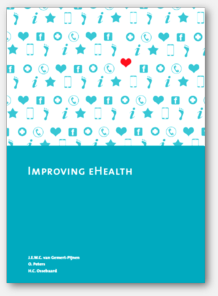 eHealth book – eHealth Research in the Spotlight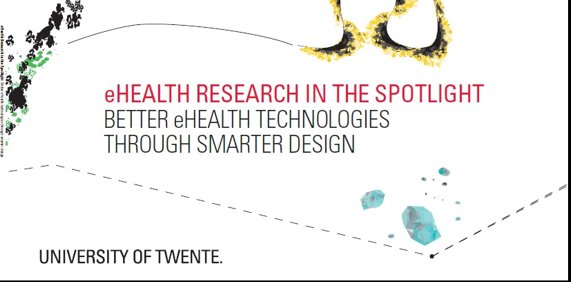 Download Link
eHealth MOOC – Combining Psychology, Healthcare and Technology
Our course will focus on improving healthcare in an innovative way by combining psychology and the design of technology. This implies the use of a holistic perspective focused on the user, technology and context. In order to teach the learners about the theory behind, aim and application of eHealth, we will explain what eHealth is and what its main benefits and barriers are, based on holistic evaluation results from practice. Furthermore, the User Centred Design approach will be introduced, partly by using a theoretical framework - the CeHRes Roadmap. Attention will be paid to methods for increasing involvement and adherence; we will explain how to involve users by applying the Persuasive Systems Design Model. The course ends with a look at the future and its emerging technology. What are new, innovative possibilities for developing eHealth and improving healthcare?
Knowledge, insight and application will be achieved by providing small lectures and articles on theory, displaying cases from practice, and using exercises where learners can apply their newly acquired theoretical knowledge. The cases from practice and the exercises will be focused on three domains in which eHealth is important: selfcare and prevention, supportive care and societal health.
During the course, the learner will take on three perspectives of persons involved with eHealth by means of cases and exercises. The first is the perspective of a patient that uses an application focused on depression or diabetes, the second type of user is the healthcare professional, and the third perspective is that of an eHealth developer. The user, context and technology will all play an important role in the cases and exercises.
Team members

Prof. Dr. Lisette van Gemert-Pijnen - Lead educator
Dr. Saskia Kelders - Educator
Floor Sieverink, MSc - Educator
Hanneke Kip, MSc - Coordinator

Further information

Launch date: 27th May, 2016