Nienke Elijzen in Nepal May – September 2010
Nienke Elijzen: My time in Nepal for my field study, was for sure one of the best times during my student life! To go abroad beyond Europe on my own was an adventure from beginning to the end. I am very happy I choose to do this minor, because it really extended my world view and the way I stand in life. Since my interests and study are in the field of education I decided to go to Nepal. In Nepal society is male dominated and next to that the country is also considered a third world country. This reveals itself in a lack of schooled children and especially in the lack of schooled girls. Many NGO's address and try to solve this lack by giving aid, and one of them is Partnership for Sustainable Development Nepal (PSD Nepal).
In cooperation with PSD Nepal I developed a research about: 'The challenges and opportunities for girls to participate in education, in the districts of Ghorka and Chitwan in Nepal'. The objective of this study was to come up with recommendations for PSD Nepal to provide aid with regard to diminishing the lack of opportunities and challenges for girls to participate in education. Next to the research I also designed and gave training to make the English volunteers able to teach English in Nepali schools. Sometimes I also helped the organization with all sorts of translation work and little jobs like that.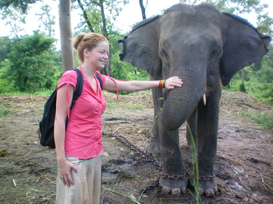 In the NGO I worked for I learnt that it is important to get local people involved in raising money and working in the development project. By making the people raise money for the project they are made aware of the fact that aid costs money and this will also give them a feeling of ownership. Next to that by making the local people involve in the work and the decisions, they will not only get a feeling of ownership they will also be able to maintain the project works better after PSD Nepal and the volunteers are gone.
Of course while being there I also wanted to discover more of the country and the people, therefore my free time in the weekends I reserved for sightseeing on foot. I made Nepali friends and saw allot of the country and its culture. One day I was even invited to come to a typically Nepali wedding and got to dress in a Sari, the traditional clothing for Nepali women.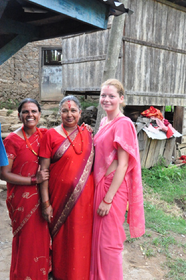 One of the aims of this minor is to confront the student with sustainable development. It is made clear to the students that you should not go abroad with the idea that you are going to change the country and make a big difference. They tell you it is you whom is going to learn allot and because of that change. With this fact in mind I could go to my country and believe that what I was going to do would not make the big difference, but that it would help and probably I would learn from it the most. I liked this aspect of the minor. I consider the information given before hand as very useful.