Thomas Keil in South Africa May – September 2010
Thomas Keil: 'A large and vibrant city with long, sandy beaches; a fascinating country building its young democracy; friendly and welcoming people and the Football World Cup on your doorstep: Surely, that should be one of the best settings for a field study? Well, doing my internship at the Democracy Development Programme (DDP) in Durban, South Africa, enabled me to combine interesting work and research with all of the above.'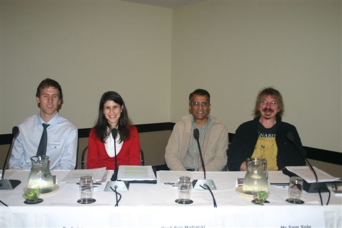 From May to September 2010 I conducted my field study at the DDP, a local NGO working to strengthen the democratic political culture through education, advocacy and research. After a warm welcome from the staff and just a few days of settling in, I was (meaning-) fully included in the organization's work. For example it was left to me to organize significant parts of monthly public discussion forums that were well-attended platforms for debating a multitude of subjects. This task required me to get in touch with many topics I had no previous knowledge of – for example the reform of the South African education system.
I also contributed to project proposals sent to potential funders, helped with several workshops and generally got insights into all of the DDP's programmatic areas. Apart from that, I conducted my research project on National Human Rights Institutions in South Africa, analysing literature and annual reports and conducting a number of interviews as well.
Needless to say that also during my free time things played out just the way I had hoped before. I made many new and good friends, went to World Cup matches, learned how to surf and how to dance to South African House Music. After the end of my internship I also travelled around South Africa and to Mozambique from September to October.
The field study was one of the best parts of my student life so far and it enabled me to experience many of the good and bad facets of modern South Africa first-hand.