A diplomatic experience! Working at a Dutch Embassy in the heart of Africa
Sarah Vissers

The internship
The Dutch Ministry of Foreign Affairs' policy is currently subject to many alterations due to extensive societal changes, caused by factors such as digitization and Europe's financial crisis. An advisory panel that was appointed by the government to offer advice on how to modernize Dutch diplomacy, has stated that communication and social media use should take central stage. Because this advice has proven to be challenging, the Embassy of the Netherlands in Rwanda appointed me as a communications intern for autumn 2013 and early 2014.
At the Embassy I worked on the website and social media policy of the Embassy, interpreted the Ministry of Foreign Affairs' new mission and vision in a way that was workable for this Embassy, delivered brochure texts that showcased the work of the Embassy and its results, and took pictures and wrote press reports about project launches and contract signings.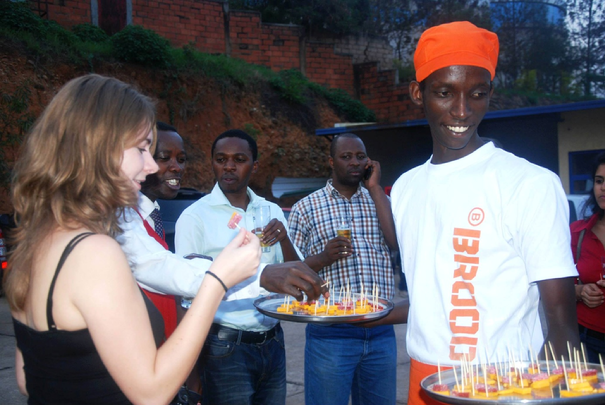 Me and local Embassy staff enjoying Dutch treats at the opening of Dutch bakery "BBROOD" in Kigali on September 27, 2013

Looking back
My time in Rwanda has taught me a lot. I'm happy I did it, and proud of myself for sticking it out. It was great to learn so much about the country's complicated recent history and its current state of affairs. I enjoyed talking to Rwandan citizens about both political and personal topics. I got to see the entire country: from the brand new skyscrapers in the country's capital Kigali (built by the Chinese - quite a different style of support) to the basic clay huts in Rwanda's remote villages. I also got to see up close what kinds of development projects the Netherlands supports in Rwanda, how the Dutch presence is manifested, to what extent an Embassy is dependent on the decision makers in The Hague, and I had the opportunity to see up close what the work of a diplomat in a developing country entails.

I now know what it means to live as an expat in a developing country. It's an interesting life. The social circles of Dutch people in Rwanda are relatively small, it did not take me long to get to know most of the Dutch community there. But I also had two other lives in Rwanda. At home, my two Rwandan housemates showed me how some of the local population lives (no private chefs and WiFi connections there!). At the youth hostel, where I sometimes hung out with friends, I got to meet many travelers. These travelers had their own stories and experiences, and compared Rwanda to other East Africa countries. I was able put these stories into perspective after visiting Uganda myself during Christmas time. With all the different types of people residing in Kigali, perceptions of Rwanda differ greatly. I'm so thankful to have caught glimpses of many lifestyles.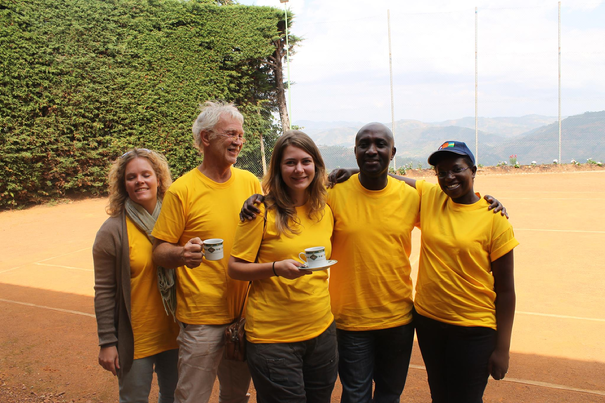 Team yellow! Together with some colleagues from the Embassy on our teambuilding day, during which we visited the Sorwathe tea plant and played some outdoor sports.