With a heavy heart, we have to report that Seyed Shojeaddin Shams Shoaei suddenly passed away on 31 March 2020. Shoja was a second-year Bachelor's student of the programme Business Information Technology. He passed away at the age of 29.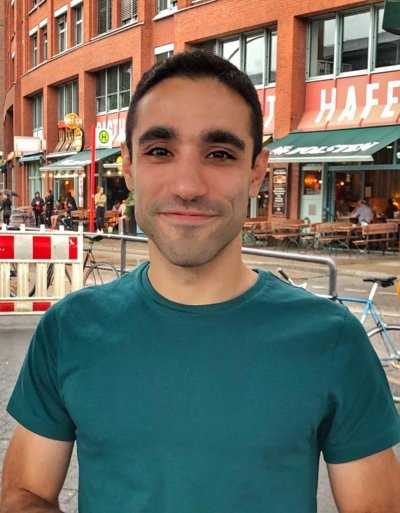 Seyed Shojeaddin Shams Shoaei was born in Tehran, Iran. We know Shoja as a very motivated and capable student. Full of ambition, he came to the University of Twente in September 2018 with the aim to obtain his BSc degree in Business Information Technology. Shoja was a member of the study association Inter-Actief.
In the two years he spent here he made a lasting impression on both the teaching staff, and students. He was a gentle person and a fantastic team player, helping his fellow students and coming up with creative technical solutions, without being pushy about his own ideas. At the same time, he was a very ambitious student, which wasn't happy with anything lower than an eight. He was exceptionally good in programming, and all the students that worked with him felt lucky to be around him and learn from him: having him in the team was the guarantee for work of high quality, and a really high grade. With his kindness, highly professional attitude, willingness to help his fellow students, and his consciousness he left a deep impression on many of us.
We are shocked by his unexpected death. In our thoughts we are with his father, Dr. Shahryar Shams Shoaei, his mother Mrs. Shokufeh Oladhaji, his brothers Mr. Shahab Shams Shoaei and Mr. Shayan Shams Shoaei, his aunt, Ms. Shahrzad Oladhaji, and her fiancé Dr. Oliver Kranendonck, and all others who were near and dear to him.  We wish them strength and comfort in this time of great loss. We share the pain his father put in these words: "I spent my life to save patients but my regret is that I haven't had any opportunity to save my beloved son."
Shoja, you will be deeply missed.
CONDOLENCE REGISTER
As currently no physical education is given at the university, a condolence register is offered online for those who knew Shoja or who are in another way touched by his sudden death, and would like to share their thoughts.
Students who need help or feel the need to talk, can contact the BIT study adviser (b.e.rosink@utwente.nl) or student psychologists (https://www.utwente.nl/en/ces/sacc/). Staff members can turn to HR who will refer them to company doctors and psychologists.
On behalf of the University of Twente,
Prof. dr. J.N. Kok, Dean Electrical Engineering, Mathematics and Computer Science
Prof. dr. S.A. van Gils, Vice-dean Electrical Engineering, Mathematics and Computer Science
Prof. dr. M.E. Iacob, Programme Director Business Information Technology
B.E. Rosink, MSc, Study Adviser Business Information Technology