From 'THT' to 'UT'
Your university days are some of the most memorable of your life. Right now, almost 12,000 students are experiencing this for themselves at the University of Twente. And for them, the name University of Twente (or UT) will forever be synonymous with all the challenges, achievements and friendships that they experience during their student days. But did you know that a whole generation of former students actually associate their student days in Twente with a completely different name? They think back fondly on their days at Technische Hogeschool Twente (Twente Technical College or THT).
In 1961, when the decision was made to create the Technische Hogeschool Twente, all higher education institutions that focused on technology were known as Technische Hogeschool or Higher Technical Schools (HTSs). But it was more than just the name that was different: those institutions were also quite distinct from the larger general universities.
The THTs had a clear focus on technology and engineering. The first cohort of students in 1964 had a choice of four programmes: Mechanical Engineering, Electrical Engineering, Chemical Technology or General Sciences. It was only later that other non-technical programmes and new faculties were added. In 1968 programmes in Applied Physics, Applied Mathematics and Industrial Engineering were added, in 1976 Public Administration, in 1977 Applied Educational Science and in 1980 Computer Science – with an initial cohort of 150 students.
To show that the THT was no longer just about technology, its name was changed to Twente University of Applied Sciences and Social Sciences (or 'TH Twente'). But this name did not last long. After the introduction of the Scientific Education Act in 1986, TH Twente became a university.
From that point on, the former HTSs were to be known as 'universities of applied sciences', which meant that the Technische Hogescholen were allowed to change their name to Universities of Technology. But for Twente, that led to considerable debate: should the word 'technical' be included in the new name or not? An awful lot of different ideas were discussed, including 'Rijksuniversiteit Twente', 'Universiteit Twente', 'Technische Universiteit Twente' and 'Twente Universiteit, Universiteit voor Technische en Maatschappijwetenschappen'.
In the end, it came down to a choice between 'Universiteit Twente' and 'Twente Universiteit'. In February 1986, the Executive Board decided to choose the latter, but with the addition of a secondary title: Universiteit voor Technische en Maatschappijwetenschappen (University for Technical and Social Sciences). This secondary title would indicate more clearly that the university had a twin focus. Once chosen, the new name then had to be justified to the University Council. In the THT News, though, there was a suggestion that the Department of Applied Linguistics believed that the name 'Universiteit Twente' should be chosen after all. Therefore, the THT was given its current name in the summer of 1986: Universiteit Twente – although in English it is known as the University of Twente.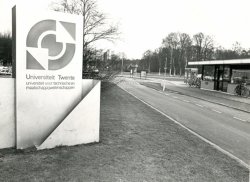 The new name presented an opportunity for a new identity, and this was frequently emphasised during the process of changing it. As you can read in the canon article about 'The Various Logos of the University of Twente', the university wanted to emphasise its links with society, and the twin focus of the university also needed to be communicated clearly. The result was two concentric circles (representing the technical and social sciences) with triangles pointing both inwards and outwards (representing interaction with society). But in the end it did not do justice to the interwoven nature of the university's twin focus areas. To bridge this gap, a new brand profile for the university was launched in 1991 with the pay-off: 'technology for society'.
But whichever name we use to refer to our unique campus university, Twente's original DNA will always remain! Living, working, studying and partying on campus, with a healthy dose of entrepreneurship and student self-government.